Mike Trout: The Best Baseball Player Of His Generation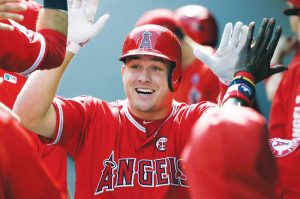 Mike Trout, also known as the "Millville Meteor," has been deemed by many as the best baseball player of his generation. The 27-year old Los Angeles Angels center fielder has even snagged a $430 million 12-year extension contract to just give reassurance of how phenomenal of a player he is and that the Los Angeles Angels of Anaheim do not want to let him go anywhere else.
A Jersey Boy with Big Dreams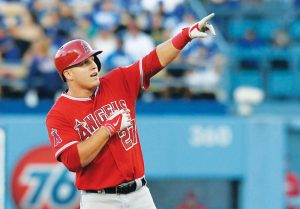 Michael Nelson Trout, born August 7, 1991 in the New Jersey suburb of Vineland, holds the title as a two-time American league MVP as well as a seven time all star. Baseball was something always ingrained in Trout's heart. His father Jeff played baseball for the University of Delaware and was a fifth-round draft pick as a second baseman by the Minnesota Twins in 1983. As a child, Trout solely followed his father's footsteps and began playing baseball in the Babe Ruth Division as a shortstop. Growing up, Trout was a huge fan of the Philadelphia Phillies and looked to Yankees player Derek Jeter as his baseball idol. Trout attended Millville High School in Millville, New Jersey where he earned five letters, excelling in both baseball and basketball. During his senior year at Millville, Trout hit 18 home runs, which was a New Jersey statewide high school record. Prior to his senior year, Trout attended the Area Code Games in Southern California where he went 6-for-11 against some of the best players in the country. It was at this event that Greg Morhardt, the scouter for the then-Anaheim Angels noticed his talents on the field.
"The Millville Meteor" Hits The Ground Running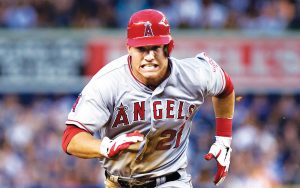 Originally, Trout's intent was to attend college at East Carolina University, a school he had already committed to playing baseball for, but he had another huge opportunity in store for him. In 2009, the Arizona Angels selected Trout for their rookie-level Arizona League. During his time there, he hit .360 with a .418 OBP and .506 SLG with one home run, 25 RBI's and 13 SB's in 187 plate appearances over 39 games. In 2011, Trout was selected by chance to be a part of his current team, the Los Angeles (then Anaheim) Angels to replace Peter Bourjos in center field due to his injury. He went 0-to-3 in his first appearance as an Angel and hit his first home run while playing against Mark Worrell of the Baltimore Orioles. Trout subsequently left the Angels to go play with Double-A Arkansas but was brought back to play with the Angels shortly after that stint. During the 2011 season, Trout was named Baseball America Minor League Player of the Year after hitting .326/.414/.544 with 11 home runs, 38 RBIs, 82 runs scored, and 33 stolen bases in 91 games.
During the 2012 season, Trout was named the American League Rookie of the Year after recording a four-hit game and crossing home plate in 14 consecutive games after scoring a run in a game. This was both an Angel's record and a League Rookie record broken at the same time. Trout's talents in 2012 and 2013 were even more insurmountable when he became the first player in MLB history to hit 30 home runs, steal 45 bases, and score 125 runs in one season. He also hit his first career grand slam, capping a 10-run inning for the Angels, their highest-scoring inning in almost 18 years. In 2014, Trout received the First American League Most Valuable Player. In 2015, Trout made more history by becoming the youngest player in MLB history to reach 100 home runs and 100 stolen bases, beating out retired player Alex Rodriguez's record.
The Babe Ruth Of Today?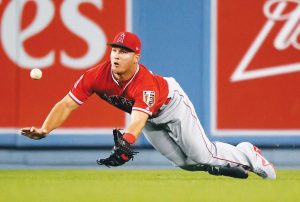 Trout has paved the way and has made so much history in baseball at only 27 years old. In 2016 he was named "the best baseball player" and the name has come a long way since then. In 2018, Sports Illustrated Magazine named him the #1 player in baseball even while he sustained injuries from the wrist and thumb. During the 2018 season, Trout had a batting average of .312 with 39 homeruns and a slugging percentage of .628. He also achieved the phenomenal milestone for playing 1,000 games during his professional career. Since the 2019 season has started, Trout has a batting average of .303 with 10 homerun so far.
Recently, Trout signed a $430 million 12-year extension contract. This negotiation stands as the largest extension in North American team sports history. This deal certainly surpasses the $330 million deal that Bryce Harper signed with the Philadelphia Phillies and the $300 million contract that Manny Machado signed with the San Diego Padres. This contract opportunity that he just received is also seen as a blessing in disguise because he was already owed $66.5 million for 2019 and 2020 from the extension he signed back in 2014.
Trout is baseball's highest paid athlete as of January 2019, earning $39 million and another $3 million for his endorsement deals with sponsored partnerships from Nike, BodyArmor, Rawlings, Topps, J&J Snack Foods and the video game MLB 9 Innings.
Trout's insurmountable talents are unparalleled and have earned him a well-deserved title of being one of the best-of-all-time baseball players.
– By Tristin Taylor