LA Stadium at Hollywood Park: Home Of The LA Rams And LA Chargers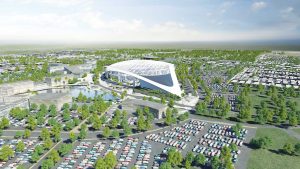 The Los Angeles Stadium and Entertainment District at Hollywood Park (LASED) is a mega proect in Inglewood that will cost more than $5 billion to build, and not to mention, it will be home to LA's returning football teams.
A New Football Mega Home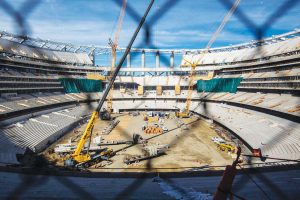 Los Angeles is home to some of the best sport's teams and it was only right that after 21 years they brought back a football team. But what's better than one? Two. LA is now home to the Los Angeles Rams and the Los Angeles Chargers and of course a monumental moment deserves a monumental welcome.
The LASED is located just south of The Forum, they're essentially neighbors, and about four miles from LAX. Because of the proximity to the airport, the stadium is being built about 100 feet underground so it does not interfere with any airport radars.
Expected to be 3.5 times the size of Disneyland, the park will house more than just the stadium. Included in the plans are a 250,000-square-foot West Coast headquarters for NFL Media and the NFL Network. Some other things that the stadium will include: 100,000 seats, 780,000-sqaure-feet of office space, 890,000-square-feet of retail space, 300 hotel rooms, 2,500 modern residences, and so much more.
The Cost Of This New Stadium Complex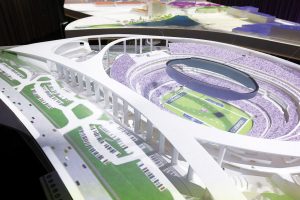 The LASED now sits at the top of the list as most-expensive-to-build NFL stadiums; the previous was the MetLife Stadium, home of the New York Giants and New York Jets, at $1.6 billion. So who funds such a project? Well a lot of people do. The most notable today are Enos Stanley Kroenke and Ann Walton Kroenke with a $1.6 billion personal equity. Stan Kroenke is also the owner of the Los Angeles Rams. Banks have also already met and arranged a $2.25 billion loan for the construction.
Because the project is a joint home for the Rams and Chargers, both teams will have some funding from the NFL for the stadium, a total of about $400 million. All in all that is $4.25 billion towards the project. Kroenke also agreed to completion guarantee, as in he covers cost overruns and covers debt if the project does not open on time.
Although stadium hasn't been completed there is already major events scheduled at the mega stadium. It is set to host the Super Bowl in 2022, College Football Playoff National Championship in 2023, and the opening and closing ceremonies for the 2028 Summer Olympics. In the mean time, you can check out live picture from the construction grounds from the official LASED website, lased.com.
– By Sandra Reyes