The Los Angeles Angels of Anaheim: Trout, Trials and Tribulations
Mike Trout's Los Angeles Angels of Anaheim…
At least that's how they've come to be known in recent years. The Angels will be looking to improve and get back to the 98-win team that scored the most runs in baseball that they were three years ago. Since then the Angels have dwindled, winning 85 games in 2015 and 77 games a year ago. This comes as no surprise with the bevy of injuries that manager Mike Scioscia has been forced to battle with. Luckily for Scioscia and the rest of the Angels organization and fans, they know that there is a light at the end of the tunnel. That light's name is Michael Nelson Trout. Mike Trout has found himself somewhat of a supporting cast with big upgrades in the outfield in Cameron Maybin and Ben Revere, Danny Espinosa at second base, and gold glovers Kole Calhoun and Andrelton Simmons rounding out the infield. These are only some of the players hoping to produce enough on offense and defend enough on the other side of the plate to make up for an abysmal recuperating Angels bullpen. With injuries plaguing the Angels rotation a year ago, Scoscia and the rest of the Halos are looking forward to putting that behind them and getting after the American League West division again this year.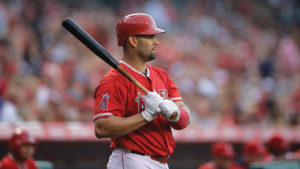 Highs and Lows for the Halos
Knowing that Mike Trout can't win every single game single handedly, The Angels are looking to see some production from his fellow Halos, especially from future hall of famer, Albert Pujols (37), who is entering his sixth year of a 10 year contract. After undergoing offseason foot surgery for the second straight year, Pujols is looking to capitalize on a 31-homerun season last year and a 40-homerun season two years ago. Shortstop Andrelton Simmons has surprised some skeptics and found himself among the nine Angels on the Esurance MLB All-Star Game ballot. Simmons has established himself as the second best hitter on the team (behind Trout) with three homeruns, seven RBI's, nine runs scored, and a .289 batting average. The Angels are currently experiencing a bit of déjà vu from last season with the amount of injuries already facing the banged up bullpen. Garrett Richards (28) was limited to six starts due to an elbow injury and was expected to be the Angels ace coming into this season. After a promising start, Richards has found himself back on the disabled list along with fellow promising pitcher, Tyler Skaggs. Skaggs become the eighth Angels pitcher to land on the 60-day DL as on April 22, 2017. The Angels now lean on relief pitcher Blake Parker and converted closer Bud Norris. Luckily for the organization, they have a guardian angel and he plays center field.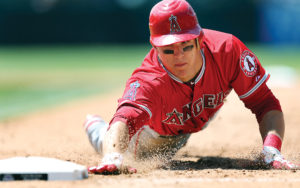 Welcome to Trout Town
When it comes to Anaheim baseball, Mike Trout is the judge, jury, and the executioner. Trout will turn 25 during the 2017 season and continues to prove why he may be having the most prolific start to a career in the history of the game. Trout has earned two AL MVP awards and took second place in the other three. If you ask anyone in Anaheim, they'd say it was fixed. Most baseball fans outside of Anaheim would agree with them. Trout has also appeared in all five All-Star games since entering the league and was the All-Star MVP two consecutive years in 2014 and 2015 for good reason. So far this season Trout has appeared at the plate 101 times. In those 101 plate appearances he has hit six homeruns, 18 RBI's, scored 15 runs, stolen five bases, and earned a .337 batting average and an astounding .406 on base percentage. The shoe-in future hall of famer added another notch to his belt by collecting his fourth American League player of the month award for the month of April. Trout has been experiencing his best first month of his five-year career and is currently enjoying a 15-game hitting streak.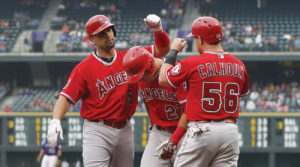 Manager Mike Scoscia has his hands full with a dwindling bullpen and a hit-or-miss lineup but as long as Mike Trout can stay healthy and be a beacon for the rest of the Halos, the Angels should be able to turn it around this season and get back to being the 98-win team they were in 2014.
– By Jerry Shumway