Taking on Coachella 2016: Your Survival Guide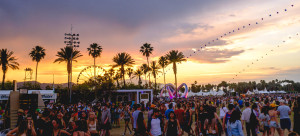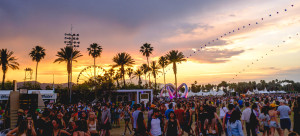 Known for their Cali boho-inspired outfits, exhilarating music performances, and rousing visual, interactive artwork, the highest-grossing music festival in the world, Coachella Valley Music and Arts Festival, more commonly known as simply Coachella or Coachella Festival, is hosted in Inland Empire's Coachella Valley in the Colorado Desert. Music falls under a genre of alternative indie rock, underground hip-hop, or dance/electronica that's almost surreal to listeners. Held this year on April 15-17 and April 22-24, the Coachella lineup features some of the hottest artists such as LCD Soundsystem, Guns N' Roses, Ellie Goulding, Discolosure, Zedd, A$AP Rocky, Halsey, Calvin Harris, Sia, Major Lazer, The 1975, and many more.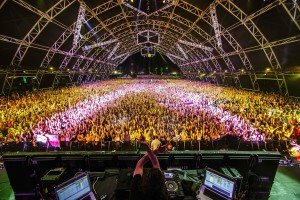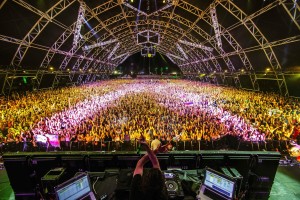 17 Years of Non-Stop Festival
The popular music festival's beginnings originated back in 1993 when Pearl Jam performed for 25,000 fans at the Empire Polo Club in Indio, California. This stemmed from a dispute with Ticketmaster. The 1993 Pearl Jam concert cemented suitability for the large-scale events in Indio, California. Four years later, Paul Tollet and Goldenvoice co-president Rick Van Santen went back to the Empire Polo Club for a festival and saw that the venue was suitable for their goal: hosting an event with many major artists to attract people. Coachella's tickets went on sale one week after the disastrous Woodstock 1999 festival that was marked by looting, violence, arson, and rape, which cast a negative shadow on music festivals of the time. Organizers of Coachella wanted to give their guests a festival experience that was unlike any other, advertising free water fountains, ample restrooms, and misting tents for their ultimate convenience and comfort. Since then, the annual 2-day event has been a hit for music-festival goers. It is rumored that Coachella will be in the same location until 2030 with a growing attendance of a whopping 99,000 people.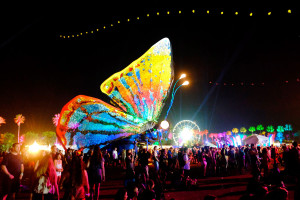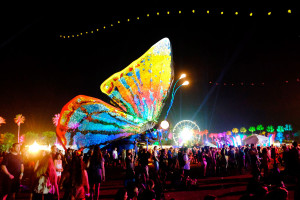 Superb Music with a Surreal Experience
To house the enormous size of bands at the festival, there are eight different stages for guests to enjoy including the Coachella (Main) Stage, Outdoor Theatre, Gobi, Mojave, Sahara, Oasis Dome, The Do Lab, and Heineken Dome. Expect lots of high-energy dancing and dramatic light shows that add to the ambiance of the overall event. Last year, over 150 acts were featured with eclectic performances but less on the hip-hop, R&B, and female artist side. Traffic will be killer, so carpooling is a must. Hotel shuttles, taxis, and Uber-ing your way to the music festival is your best bet. While there is free parking, getting around might be a daunting task. Once you get there, it's important to have a place to stay. If you're not at a hotel, Coachella offers on and off-site camping for ultimate experience. While reception is spotty, free Wi-Fi access is provided. However, a text might take 40 minutes to send.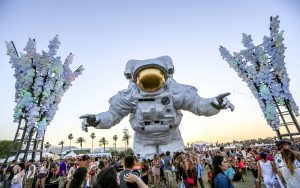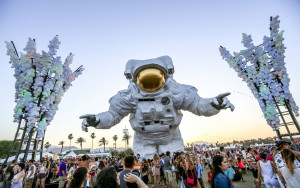 Food is also an integral part of the experience. A four-course meal is available but comes with a hefty price tag of $225 per night from the hottest culinary masters. Other trucks and L.A. eateries are featured. Cocktails and other drinks are served at the Craft Beer Garden. Staying hydrated is necessary for an all-day event in such hot desert weather.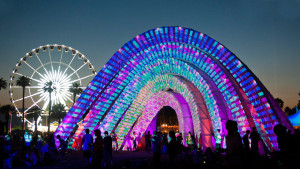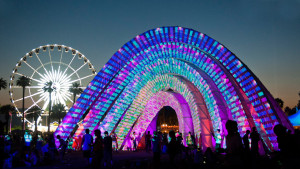 Coachella Culture and Artwork
At Coachella, literally anything is possible, so don't be surprised to see wacky, informal outfits and hyped music festival attendees. Part of Coachella culture is in the artwork (hence the second part of the name "Arts Festival") where worldwide showcases will be displayed, lighting up the fairgrounds and providing a dreamlike state. Last year, exhibits such as Pulp Pavilion (an architectural experiment of reclaimed paper serving as a colorful, organic canopy), Twelve Shades of Pass.Ani (numerous 12 classic lamp shade forms), and Chrono Chromatic (sculpture celebrating spectrum of music and artists with pillars that morph in size, proportion, and RGB-light controlled color). In addition to music there are art studios, a farmers market, a WiFi zone, Yoga, roller skate party, and pinball available.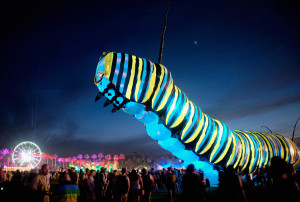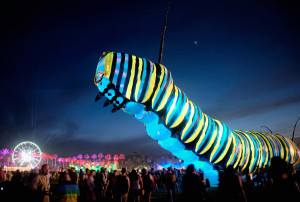 Celebrity sightings are not uncommon as this is a popular Spring Break-type destination, but many celebrities attend the secluded, invite-only VIP parties. Coachella is a place for inner-fashion to shine. The standard is breezy pieces, comfortable dancing shoes, and hats. The weather generally will be scorching hot in the day and chilly at night, so pack accordingly. Backpacks within the allotted dimension are perfect for keeping your hands free, shorts, tank tops, watches, extra socks, sunglasses, ponchos, and a lightweight towel are must-haves. While females can be seen in maxi skirts, high-waist shorts, sunhats, and vintage/hipster feel, males casually don cutoff shorts, graphic tanks, and sleeveless shirts with Ray Ban sunglasses.
Pricey tickets are worth the hype of the annual Coachella Music Festival that provides a unique experience to all attendees. Expect loose, flowing and loose outfits, music-infused adventures, and neon lights under the desert moon this 2016!
-By Bonnie Wong