Los Angeles Rams 2017-2018 Season Preview
With a new head coach in place, 31-year-old Sean McVay and defensive coordinator Wade Phillips, the Rams are looking to making major improvements on an abysmal season last year. One of the leagues youngest rosters now reps the youngest head coach in the league history but this may be just what the Rams need to get in gear.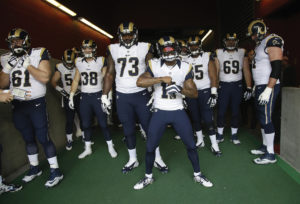 Give the Ball to Gurley
The good thing about hitting rock bottom is that you can only go up from there. The Rams' offense a year ago was the worst in the NFL by a staggering margin. Not only that, but they were last in offensive yards per game (262.7), moved the chains a league worst 24.62 percent of the time, which was significantly worse than their league-worst ranking in first down percentage from 2015 and if it seemed like there was never a time that you saw a Rams' quarterback and he wasn't on his back… You were right. Jared Goff was sacked a horrendous 11.3 percent of the time and over the course of the season the Rams gave up the second most sacks in the league with 49. Now that that's out of the way, let's focus on the keys to a productive 2017 offensive season. Their offensive-minded head coach should bring some hope to what seemed like a hopeless squad a year ago. After trading up for the number one overall pick in the 2016 NFL Draft, it appears that Jared Goff has finally been officially named as the number one quarterback in Los Angeles and we can only hope that he is ready for that responsibility. Goff finished last season as Pro Football Focus' second worst ranked quarterback in the league after losing all seven of his starts and throwing seven interceptions to accompany his five touchdowns and less than 55 percent completion percentage. The Rams recently signed veteran quarterback, Dan Orlovsky, to back up Goff, which is good because it was beginning to feel a bit too familiar with Sean Mannion, a quarterback who has never seen a start in the NFL, backing up Goff.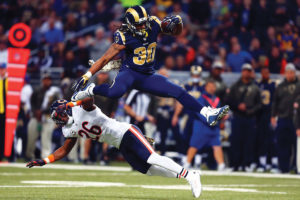 Todd Gurley. At one point one of the most feared running backs in the league as a rookie two years ago fell off in a major way last season. This can most likely be blamed on a move from St. Louis to Los Angeles and the Rams toting one of the worst offensive lines in football. Despite his numbers dropping from 1,106 yards and 10 touchdowns as a rookie to 885 yards and six touchdowns as a sophomore, Gurley did put in the work to improve his pass catching ability from his rookie to his second year in the league after catching only 21 passes in 2015 and doubling that to catch 43 in 2016. The scary thing about the running back situation in Los Angeles is that even with the free agency signing of Lance Dunbar, Gurley has no true backup as of right now so we can only hope that he can stay healthy behind a questionable o-line.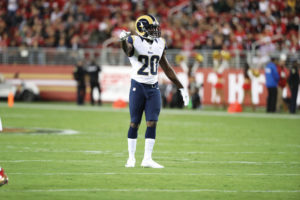 The receiving corp. Lost some big names in Kenny Britt and Brian Quick in free agency but replaced them with some medium-with-potential-to-be-big names in Robert Woods and rookie, Cooper Kupp. Despite being almost the same age, Woods is going into his fifth NFL season but has never seen the targets that he deserves after being a part of a run-heavy offense in Buffalo. Kupp was named one of the most NFL ready receivers in this past draft after raking in 6,500 career-receiving yards, 73 touchdowns and setting every major FCS receiving record there is. The Rams' main receiver will remain Tavon Austin who will be the third highest paid wide receiver in the league in 2017 despite his 106 target-58 reception-509 yard line a year ago. Let's hope that this offensive unit can finally offer a break to a defense that seems to have been carrying this team for the three years since Aaron Donald joined the league.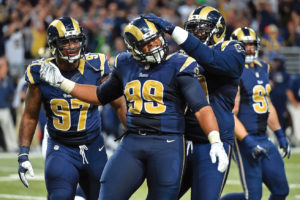 Aaron Donald: Defensive Machine
I like to imagine the Rams' coaching staff as the cast of the original Lethal Weapon where Sean McVay is Mel Gibson and Wade Phillips is Danny Glover. The hiring of legendary defensive coordinator Wade Phillips was easily the Rams' biggest and best move this offseason and should improve an already bright spot of the team. Phillips track record speaks for itself after building the Denver Broncos' defense into a top-five unit three years in a row and creating the leading force behind their Super Bowl 50 victory. Phillips will trade out Jeff Fisher's 4-3 defense and implement his 3-4 scheme, which will result in some movement up front.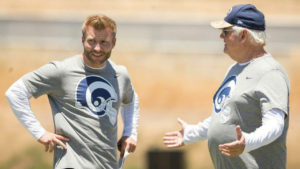 No matter the scheme, all you need to know about Los Angeles' defense is two words: Aaron. Donald. This guy can play. The 14th overall pick in the 2014 draft is arguably the best player in the league and rightfully so. He's finished #1 among defensive tackles on Pro Football Focus in all three seasons that he's been in the league and was the highest rated defensive player regardless of position last season, even with the Rams turning in one of their worst season in the past decade. The 3-4 defense will force the natural defensive tackle to defensive end, which will only result in Donald obliterating his career-high of 11 sacks. Alongside Donald will be Michael Brockers who will remain as the base package nose tackle and Dominique Easley who will start at the other defensive end position opposite of Donald. All three of these defensive linemen were first round draft picks and have proven why in recent years. Mark Barron and Alec Ogletree are strong candidates at linebacker but need to use this season as an opportunity to live up to their potential.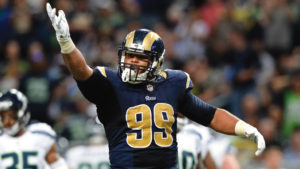 The defensive backfield is absolutely the biggest question mark for the Rams this year. After losing Rodney McLeod and Janoris Jenkins in the 2015 offseason, they lost TJ McDonald this year and have not done much to fill the void that they left. LaMarcus Joyner, who is coming off his best season and into the final year of his rookie contract, will move from slot cornerback to safety. Aside from Joyney, EJ Gaines, Kayvon Webster and Nickell Robey-Coleman will likely fill out the rest of the Los Angeles secondary.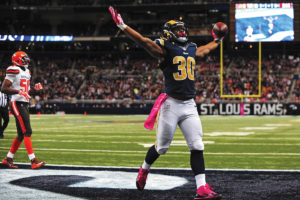 Final Thoughts For the Rams
It unfortunately looks like another rebuilding year for the Rams who in their new home of Los Angeles are facing extremely high expectations. Most analysts, experts and polls have the Rams winning no more then four games this season, which would match their mark a year ago. That doesn't mean that they have nothing to hang their hat on though. Goff has the size and potential to be a decent quarterback in this league with Sean McVay aiding in his progression. Gurley is a pro bowl-caliber back that will get his stride back if offered the chance to do so. Donald is a powerhouse that if he stays healthy will continue to dominate this league.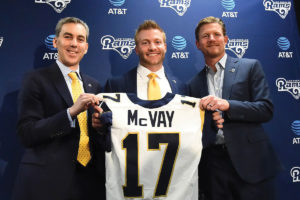 And let's not forget about ol' Johnny Hekker. The Rams' punter was debatably their most dangerous offensive weapon last year after setting the NFL record for most punts inside the 20-yard line. So they have that going for them… Which is nice to have.
By Jerry Shumway