Jeremy Lin: The Road to the Lakers
Remember "Linsanity" a few years back? Well, get ready for a sequel because Jeremy Lin is bringing it back now that he is on the Lakers!
Who is Jeremy Lin?
Born in Torrance, California on August 23, 1988, Jeremy Lin is a first-generation Chinese-Taiwanese-American raised by his family in Palo Alto, California. His father, Lin Gie Ming, came from Changhua, Taiwan and his maternal grandmother came to Taiwan from Pinghu, Zhejiang in Mainland China. Lin's family includes his father, his mother Shirley Lin, his older brother Josh, and his younger brother Joseph. Growing up, he was taught to play basketball by his father and with the support of his mother they helped to form a National Junior Basketball program in Palo Alto.
During his high school year, he was awarded the first-team All-State and Northern California Division II Player of the Year and ended his senior year with an average of 15.1 points, 7.1 assists, 6.2 rebounds, and 5.0 steals per game. Lin continued to pursue his love for basketball in college.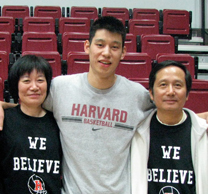 Jeremy Lin: Going through the College Path
While Jeremy Lin applied for athletic scholarships to schools of his choice, he was unfortunately denied of any athletic scholarships. Instead, many schools wanted him to walk-on. As a result, Lin was spotted by Bill Holden, the Harvard assistant coach at the time, and was recognized as someone who would fit well to Holden's standards, both academically and physically. Holden's views changed after watching Lin play at a game in a much more competitive state, leading Holden to consider recruiting Lin.
When Jeremy Lin was initially recruited as a freshman, he was considered, physically, the weakest guy on the team. But as he went the rest of his college years, he managed to be a consensus selection for All-Ivy League First Team and became the first player in the Ivy League to record at least 1,450 (1,483) points, 450 (487) rebounds, 400 (406) assists, and 200 (225) steals.
Lin's History in the Making
Lin started at Harvard, where he played basketball for four years, playing 115 games and averaging 12.9 points per game. He was nominated to the All-Ivy League First Team in his last two years. After graduating, he was signed as a free agent by the Golden State Warriors in July 2010 and was sent to play for the Reno Bighorns of the NBA's developmental league. Lin became the first American of Chinese/Taiwanese descent to play in the NBA. In December 2011 he was waived by Golden State, and then picked up by the Houston Rockets, and waived by Houston shortly after on December 24. On December 27, Lin was claimed by the New York Knicks, and began playing after other players suffered injuries.
"Linsanity" on the Rise
In February 2012, Lin helped the New York Knicks score 25 points against the New Jersey Nets, which helped to lead his team to victory. After that game, Lin began receiving a substantial amount of playing time. He helped lead the Knicks to a seven-game streak victory by scoring 171 points, 64 assists in the run, which included 38 points scored in a win against Kobe Bryant and the Los Angeles Lakers. Within only two weeks, Lin became an international basketball superstar with fans and the media coining the name "Linsanity." Lin's success was a big hit in the market. He appeared on a multitude of magazines and his No. 17 jersey became a top seller. However, a misfortunate knee injury prevented Lin from playing for the rest of the regular season.
Transition to the Lakers
Jeremy Lin is looking to play with the Lakers in the 2015 season. They finally landed Lin after three attempts. The Lakers had tried to sign Lin in 2010 as an undrafted rookie, but Lin chose to go with the Golden State Warriors instead. The Lakers once again tried to gain rights to Lin when the Warriors dropped Lin in 2011, but the Houston Rockets earned the rights to Lin because they had a worse record. Finally, the Rockets traded Lin, along with two other 2015 draft picks, to the Lakers on July 13, 2014, for draft rights to Sergei Lishchuk. The Rockets had hoped to sign free agent Miami Heat power forward, Chris Bosh, with this trade to clear cap space but were unsuccessful.
Future with the Lakers
With Steve Nash's back injury forcing him to sit out for the 2014-2015 season, the doors have opened for Jeremy Lin to become a starter for the Lakers as point guard, along with Kobe Bryant as shooting guard, Wesley Johnson as small forward, Carlos Boozer as power forward, and Jordan Hill as center. The Lakers were plagued last season by injuries to many players, including Kobe Bryant. The team finished with a record of 27-55; this was the greatest amount of losses in the history of the Lakers and also the first time the team did not qualify for the playoffs since the 2004-2005 season.
Jeremy Lin had averaged 12.5 points, 2.6 rebounds, and 4.1 assists per game last season with the Rockets. His solid offensive skills will enable the Lakers to attack the court more efficiently and score more points. Lin particularly excels at passing and pick-and-rolls. While Lin lacks a solid defense, Kobe Bryant has been working with him to mitigate that issue. He has improved overall since last season, averaging 12.4 points, 3.0 rebounds, and 6.2 assists per game in the 2014-2015 preseason. The 2014-2015 season looks bright for the Lakers with the addition of Lin and the recovery of the Lakers' star players.
– By Brian Chen, Karen Ip, and Bonnie Wong