The Freshest Looks for Spring: Men's Fashion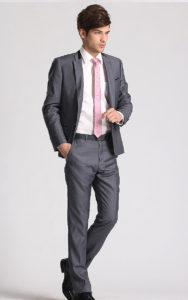 As spring 2015 approaches, nearly every gentleman wants to look his best. Show off your new apparel, put your best foot forward with the latest in footwear, and don the newest accessories of the season with all the hottest trends for the new fashion season.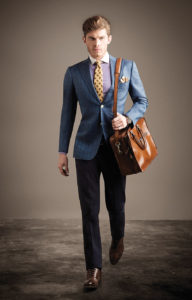 All that Apparel
After the chilly season leaves you feeling sluggish, liven up your wardrobe with new pieces for the spring. This spring season is all about layering your tops to mix and match for a fresh look. Go for Floral and Hawaiian prints that can be dressed up or down, depending on the style and wardrobe piece. These printed pieces add extra detailing to your outfit for a man of any age. For the more formal gent, a classic blazer never goes out of style and is a must-have. Try classic deep blues and blacks for a professional look, or add interest to your outfit with a blazer or sport coat in a unique color such as maroon. You can also find one in a new material such as velvet or tweed. With the assortment of colors and styles, finding the perfect one is a great additive to any outfit. Skinny ties and slim fit suits are making a comeback! These styles give every man a youthful look and offer the appearance of a slimmer body that can be worn for formalwear.
Another trend for this spring are stripes. Whether they are on pants or shirts, horizontal stripes have the ability to make you appear wider whereas vertical stripes can make you look taller. The denim style is a classic, timeless piece that is not limited to just pants but jackets as well. Playing up bright colors for a burst of added shades is a way to add new hues into your wardrobe. Trending colors this season include shades of cool blues, greens, and grays. However, the minimalist look is also a trend of 2015. All-white, or offset white shades such as ivory, cream, beige, and sandstone offer a softer, subtle tone and can pair well with any outfit.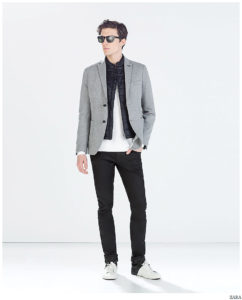 The Newest Kicks
Shoes play a big role in tying together your look. Popular this spring is classic looks with a new spin on it such as the boat shoe, oxford, and loafer. These shoes have a rugged, outdoor look but can be paired with refined pieces for the true gent who is adventurous. A penny loafer without the laces can be dressed up or down, depending on what you're wearing. This type of shoe gives the illusion of longer feet. Find a pair in a neutral shade such as black or brown to pair well with any outfit of your liking. For a casual, everyday look opt for either single color or two-toned sneakers. Depending on the style, these sneakers have the ability to match whatever you're wearing.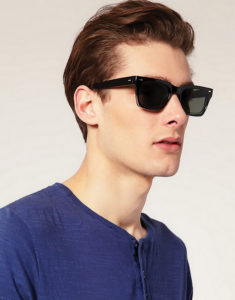 To balance out the shape, opt for shoes that aren't chunky and square. Instead, pick out a pair that is streamlined and skinny with a pointed but still rounded toe for a stylish footwear choice. A staple item is the classic black lace-up that can match with whatever outfit you decide to wear because of its versatility. The new styles this year, however, are not to fully match. Mixing patterns, prints, and styles in terms of shoes and clothing is one of the many ways to obtain a new look this season and play with your style.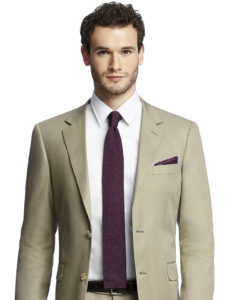 Accessorize with the Newest Additions
Your clothes aren't the only things that reflect your style. Don't forget the little details with the newest accessory styles this year. For the accomplished man, a briefcase is a staple. Not only is it functional, but it also comes in a variety of sophisticated and sleek styles for toting around. Keep your important documents together with a portfolio and your business cards crisp in a cardholder. These accessories are popular in a leather finish. For a clean look, a duo-toned leather wallet shows ultimate elegance. Making calls all day? Having a sturdy cell phone case is vital in protecting your phone as well as offering maximum style. Go for one that can fit in a neutral shade such as black or blue to pair well with your outfits. For jotting down quick notes, you can't forget about having a reliable pen. Try one that doubles as a stylus so you can have easy access to your Smartphone or tablet and impress your boss and fellow co-workers.
A watch is a staple piece. This season, skip the usual sporty watch and opt for one in rose gold for telling time. For added interest, purchase cufflinks in abstract designs and colors for a new twist on the classic look. Don't forget your sunglasses to protect your eyes. Popular for spring are the hipster-styled, thick-rimmed glasses. For a new look, try one in a camouflage print or an offsetting color.
As springtime rolls around, it's important to keep in mind the trends for the year. Try mixing up your everyday wardrobe with new styles that can contribute to your new look. Experimenting with unexpected styles can broaden your scope of fashion. Add a new color, play up a print, or find a new favorite accessory. This season, find your perfect fit to add to your list.
-By Bonnie Wong